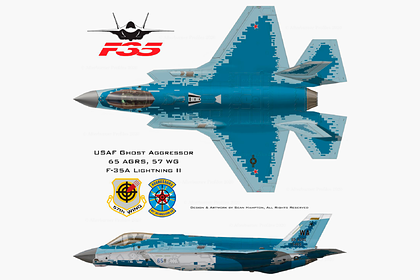 Images of obsolete versions of the fifth generation F-35 Lightning II fighters disguised as the Russian Su-57 appeared on the network. They can be viewed on Facebook at the Sean Hampton Aviation Art page.
Aircraft of the 65th Aggressor Squadron at Nellis Air Force Base, which the US Air Force (Air Force) will use to simulate enemy aircraft, should receive a similar coloring.
The pictures were posted online by a veteran of the United States Air Force and artist Sean Hampton, who said that the US military ordered the development of such a design for a fighter.
In September, military expert Alexei Leonkov said that the Su-57 had received "a fundamentally new set of onboard equipment" that serves as a "co-pilot"
In July, the publication of the Chinese portal Global Times named the American F-22 Raptor and F-35 Lightning II, as well as the Chinese J-20, but not the Russian Su-57, as fifth generation fighters. The internationally oriented publication, which is overseen by the Central Committee of the Chinese Communist Party, citing a publication in Acta Aeronautica et Astronautica Sinica, cited the opinion of the deputy director of science and technology of Aviation Industry Corporation of China (AVIC), J-20 general designer Yang Wei …